The provisional results of Rwanda's fourth Population and Housing Census reveal that Rwanda's population has risen to over 10,500,000, which is up from the figure of over 8,128,000 counted in 2002 – a rise of 29.6 per cent.
On releasing the provisional results in November 2012, Finance and Economic Planning Minister John Rwangombwa said that the annual population growth rate had dropped by 2.6 per cent when compared with ten years ago. This implied that family planning was paying off, he said.
The Director General of the National Institute of Statistics of Rwanda (NISR), Yusuf Murangwa, said the Census is an important statistical infrastructure and that NISR and other institutions would benefit  substantially from the information. "Data from the census will provide detailed statistics across different socio-economic sectors, for use in policy formulation and decision making by many institutions," he said.
The Census data would provide a comprehensive and updated sampling frame, which is the basis for good design of different national surveys that NISR and other institutions might carry out. Census data would also have an impact on the quality of data from national surveys that will follow, he said.
Challenges before and during the census enumeration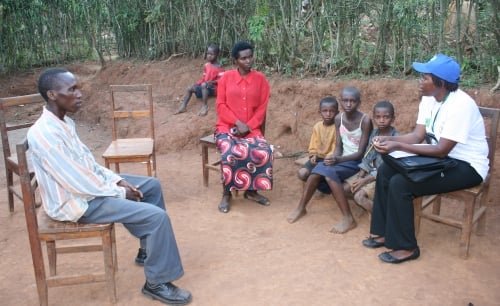 The overall census operation was a challenge because of the work involved at different stages, from conceptual framework, stakeholder management and enumeration to data processing and dissemination. "A lot of work was involved, and there were strict deadlines for each activity. We had to work around the clock to make sure no time was lost," he said.
Innovative approaches
NISR used mobile technology to monitor daily field enumeration. Enumerators reported progress daily over the two-week period, using mobile phones that were connected with computer servers and web-based reports produced automatically for all enumeration areas. This allowed NISR to ensure timely completion of the enumeration exercise and intervene promptly where needed. 
The process used volunteers, especially at the level of local governments. These, supported by political support, early preparation, the commitment of the NISR team and of the development partners, led to the successful census operations.
Role of the private sector in the census
The private sector played an important role in the census enumeration by supplying all materials in time. Telephone service providers also offered free publicity messages about the Census to all their subscribers.
Lessons learned
Early preparation of census operations is critical to its success. This should be done at least two to three years in advance. The other lesson is to involve all stakeholders (government entities, private sector, civil society and development partners) early on in the Census prepartions.
Sources of support
The sources of census support were the Government of Rwanda, which provided significant financial and non-financial resources, and all development partners, including the United Nations Population Fund (UNFPA), UK AID, One UN, European Union and the World Bank.
UNFPA contribution
On behalf of One UN, UNFPA was among several organizations that supported the preparation and execution of Rwanda's 4th National Population and Housing Census, with a donation of 15 double cabin pick-up vehicles worth US$580,000 (about 350 million Rwandan Francs) to the NISR.
In addition to the vehicles, UNFPA provided both technical and financial support to the Government of Rwanda worth over $6 million. The contributions included the provision of technical experts headed by Dr. Bolaji Taiwo, a Chief Technical Adviser, and the provision of equipment to map 16,715 census enumeration areas nationwide. Laptops, desktop computers, printers, plotters, GPS and local area network infrastructure were also provided.
Mr. Murangwa said he appreciated the contribution of stakeholders to the successful completion of the census enumeration and was optimistic that the census data would be useful to users. "We want to assure data users that the data is of very good quality andthe census results will satisfy their data needs," he said.
Next steps
The Census data processing is progressing well, Mr. Murangwa said, and specific thematic reports  would be released by the end of 2013, one year after enumeration. This would then be followed by the building of a civil registration system that would provide timely and key population dynamics statistics in the future.