MAJUNGA, Madagascar/UNITED NATIONS, New York – Only one third of countries have committed to upholding the sexual and reproductive health and rights of women and girls in their national climate plans, according to new findings by UNFPA, the United Nations sexual and reproductive health agency.
In a global first, a new report released today by UNFPA in collaboration with Queen Mary University of London examines the climate plans of 119 countries to establish how access to contraception, gender-based violence support services and maternal health care are integrated into climate adaptation goals.
The report, "Taking Stock: Sexual and Reproductive Health and Rights in Climate Commitments: A Global Review", shows that of the 38 countries that have integrated sexual and reproductive health and rights into their climate plans, only 23 reference maternal and newborn health, while just 15 reference gender-based violence.
Yet climate change is well known to act as a risk multiplier for women and girls. Climate-related displacement can disrupt access to family planning facilities and gender-based violence protection services, while increased food insecurity as a result of extreme weather can exacerbate the risk of stillbirth and severely impact maternal and newborn health.
While women and girls in the poorest countries have contributed the least to the climate crisis, they are often the most impacted – and these findings suggest that their needs are, once more, being overlooked.
View of a dried up river following years of drought in Madagascar's Grand Sud. ​​© UNFPA Madagascar/Melvis Kimbi
Family planning: a climate change survival strategy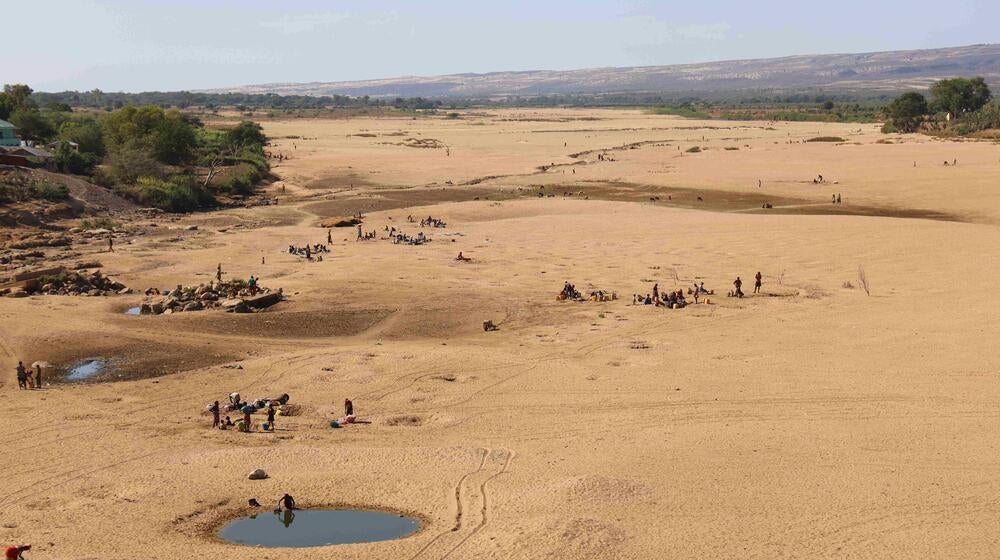 For some women, family planning can be a question of life and death. That is the case for Pela Judith, who lives in the Grand Sud, or Great South, of Madagascar, a region that faced its most acute drought in 40 years in 2022.
"I used to cultivate cassava and other grains," she told UNFPA in 2022. "The children went to school while we were in the fields."
It's a life the then-25-year-old barely remembers. "The droughts have changed many things. Now everything has become expensive — food, water. We had to stop schooling for two of the children."
The drought caused severe food shortages for more than a million people in 2022, and its effects continue to be felt. For Pela Judith, it coincided with another tragedy: Her husband fell ill and became partly paralysed.
The family sold their land to pay for treatment and moved to the city to find work. Pela Judith became their sole breadwinner, washing clothes or carrying water for money. For her, contraception became a necessity. "I am not even able to feed my four children, so giving birth to another child is not in my plans anymore."
A call for action
With just weeks to go before world leaders and policymakers attend the 2023 United Nations Climate Change Conference, COP 28, in Dubai, UNFPA is calling on countries to commit 1 per cent of their climate finances to sexual and reproductive health and rights.
While more data is needed to understand exactly how the climate emergency is impacting women and girls, UNFPA's new report demonstrates the urgency of bringing women and girls to the table to deliver sustainable and inclusive climate solutions.
"The climate crisis is not gender-neutral. In those countries most at-risk, women and girls are disproportionately affected even though they have contributed the least to the global climate emergency," says UNFPA Executive Director Dr. Natalia Kanem.
"Highlighting emerging evidence of the impacts of climate change on the health and wellbeing of women and girls – from increased poverty and food insecurity to poorer maternal health outcomes to increased risk of gender-based violence and harmful practices – this review is a timely reminder of why it is so critical that countries prioritize sexual and reproductive health and rights in their climate strategies."