The last 15 years have witnessed increasing global recognition of the importance of men's involvement in Sexual and Reproductive Health (SRH), child health and HIV prevention. The urgency of encouraging boys and men to take responsibility for their own health and that of their partners is gaining momentum.
In Uganda, the 2gether 4 SRHR joint programme have combined the strengths of  UNAIDS, UNFPA, UNICEF and WHO to develop and implement the National Strategy for Male Involvement/Participation with a goal of improving male involvement and participation in RMNACH-N, GBV/VAC, SRHR including HIV/TB.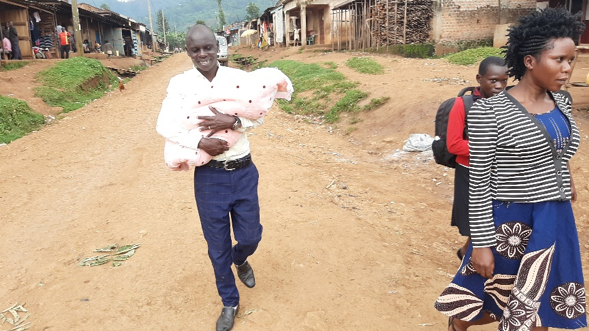 A man holding the baby while escorting his sick wife (in the company of their daughter carrying the bag) to Bushika HC III – Bududa District
Men also have their own SRH needs that require medical interventions. By extending the same range of SRH services to men as to women, we can address men's SRH needs.
The interventions have been implemented in three districts namely Namayingo, Amudat and Kampala. The key successes to date include:
Developed a service delivery package (including

condom use, prostate cancer screening, alcoholic anonymous, safe male medical circumcision, STI screening and management, infertility screening management, anger management, counselling, vasectomy)

for male involvement for health facilities.

Built capacity of 120 health workers at 27 project supported health care facilities in male involvement in RMNCAH-N GBV/VAC, SRH including HIV/TB.

 

Conducted supervision to ensure services are male-friendly and non-discriminatory; addressing partner needs in a more specific way to make services attractive to men.

Ensured Health education talks at health facilities to increase male involvement.

Improved data collection through the use of a register for male involvement.

Increased number of men escorting their spouses for ANC, YCC and Family planning.

Men who escort their spouses are offered services like checks on blood pressure, weight, malaria, temperature, and diabetes among others.

Significant increase in the number of males coming for male service delivery package.

A brochure on male involvement in SRH/GBV has been developed.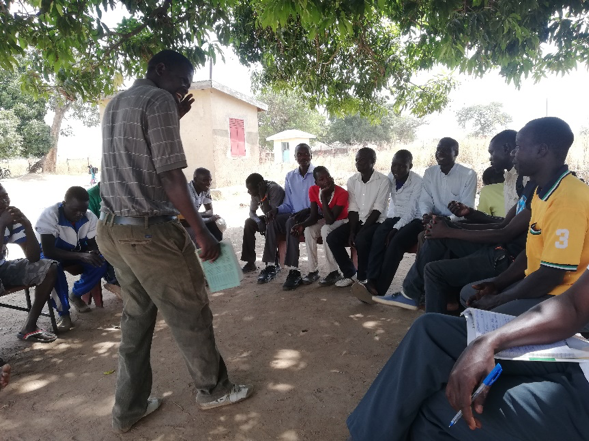 A male action group during their meeting at Awach HC IV – Gulu District
Men as decision-makers play a key role in influencing health-seeking behaviour in families and should therefore be viewed as partners in women's SRH health.
Gender equality cannot be achieved without the involvement and participation of men. Mobilizing men to support their spouse SRH needs is a key step against gender-based violence.
There are harmful religious, cultural and societal norms that promote negative male masculinities while hindering men from adopting positive health-seeking behaviour that needs to be challenged by empowered men and health workers.
To ensure the sustainability of the intervention, districts have nominated focal persons (Assistant District Health Officers) for male involvement.