UNITED NATIONS, New York – Nancy Tomee resisted female genital mutilation (FGM) for seven long years, enduring bullying and abuse before a local organization intervened on her behalf. Yesterday, Ms. Tomee spoke to dignitaries at the United Nations Headquarters in New York about her efforts to empower other girls to stand up against FGM.
"I am representing those that are demanding that change, for each girl needs to be a source of further change, and I am an ambassador," she said at the high-level dialogue, which was organized by the Organization of African First Ladies against HIV/AIDS (OAFLA) in partnership with UNFPA.
At the event, which coincided with the 69th session of the United Nations General Assembly, first ladies from around Africa and the world called on global leaders to support the rights and welfare of adolescent girls – particularly those in Africa, where girls continue to endure high rates of child marriage and early pregnancy, leading to lower levels of secondary school completion and higher levels of maternal death.
"In Africa, girls under the age of 15 are five times more likely to die during childbirth than older women, with maternal conditions accounting for more than 15 per cent of their deaths," UNFPA's Executive Director, Dr. Babatunde Osotimehin, noted at the event.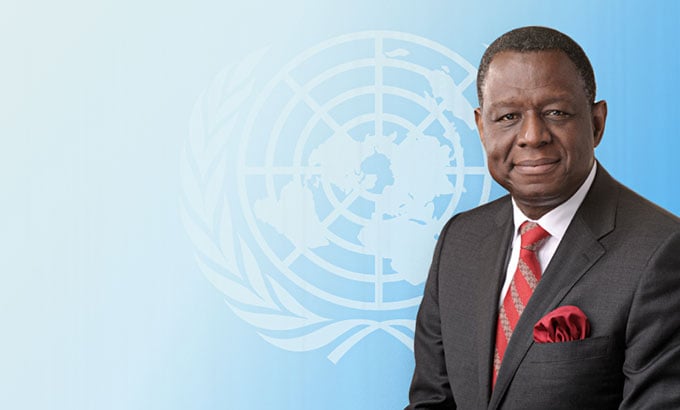 For some girls, the first step in this downward spiral is FGM – a rite of passage marking a girl's entry into womanhood.
Standing alone
Some 27 per cent of women in Kenya have undergone some form of FGM, according to the country's 2008 demographic and health survey.
In her home in Ortum, in north-eastern Kenya, Ms. Tomee saw how girls who underwent FGM were married off and forced to leave school. She saw how the scarring from FGM increased complications during childbirth, sometimes obstructing labour. She also saw how the low status of women was perpetuated by violence, starting with her own mother's abuse at the hands of her father.
Yet Ms. Tomee was alone in questioning these practices.
When her family decided she was old enough to undergo FGM, they dragged her by force to the cutting ceremony. She escaped only by struggling free and running away.
When she returned home after completing her primary education, her parents again tried to force her to undergo FGM. She ran away again, this time to an uncle's home. She was saved only when a local group, called Abandon the Knife, persuaded her parents to allow her to undergo an alternative rite of passage.
Now 21 years old, Ms. Tomee is an advocate for other girls who want to escape FGM. She is the subject of an award-winning documentary film, and, in November, she will be partnering with UNFPA in a mass mobilization of young people in her Pokot community. The young people will publically declare their intention to abandon the practice of FGM.
"World's greatest untapped resource"
Ms. Tomee is also reaching out on an international level. "We ask for your support so we can speak with one voice and prove change is possible," she told the first ladies gathered at the UN. "We want to reach every girl and give them support to resist and a voice to be heard."
Young women like Ms. Tomee have the potential to reshape not only their own lives, but the whole of Africa, Dr. Osotimehin said.
"Girls are the world's greatest untapped resources," Dr. Osotimehin told attendees at the event.
But violations of their rights prevent them from contributing fully to their communities and countries. "Early marriage and pregnancy, gender-based violence and discrimination all too often spell the end of education for adolescent girls, risking their health and destroying their potential," he said.
On the other hand, he noted, "investments in girls have significant economic returns. These returns have the potential to uplift entire economies."
Seeds of change
UNFPA works throughout Africa and the world to ensure girls are able to realize their full potential.
Through the Action for Adolescent Girls programme, for example, UNFPA promotes adolescent girls' human rights, empowerment and education. And in 2013, through the UNFPA-UNICEF joint programme on FGM, 1,404 communities in West and Central Africa publically declared they would abandon FGM.
Monday's dialogue was chaired by the First Lady of Chad, Hinda Deby Itno. The event drew first ladies from around the world as well as heads of international organizations, private sector representatives and philanthropists.
Together, the first ladies called on the global community to reaffirm their commitment to the rights, health and well-being of women and adolescent girls.